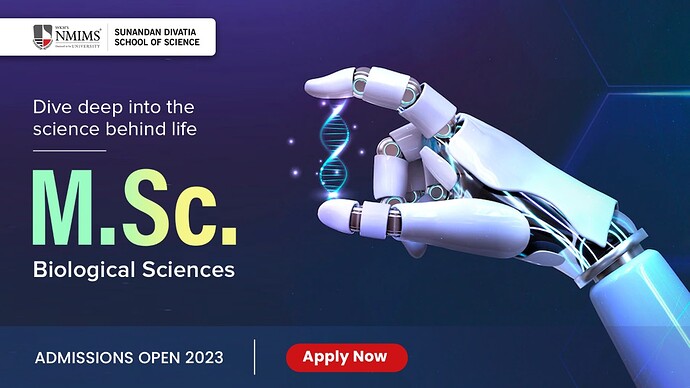 M.Sc. Biological Sciences is a two-year program offered by NMIMS. The emphasis is laid on the domain
knowledge and experimental skills required in modern and applied biological sciences while covering a
variety of sub-disciplines.
The curriculum focuses on the overall development of laboratory skills along with an expansion of the
knowledge base through interdisciplinary coursework. Throughout this research-intensive program,
students are immersed in a world-leading research environment and trained in the skills required to
analyse and address major biological challenges of our time.
Upon the course completion, students can find employment opportunities in branches like Gentics,
Immunology, Molecular Biology, Stem Cell Biology, Biochemistry, Microbiology, Physiology and Cancer
Biology. There are multiple opportunities in sectors like Academia, Biotech industries, Quality Control,
Clinical Data management, Molecular Diagnostics, Scientific Communication/Editing, Pharmaceutical
Industries, Medical Research and Genetic Engineering.
To Know more: SUNANDAN DIVATIA SCHOOL OF SCIENCE